Jessi and I made a promise "We will see each other again when we'll get married at the latest." Before she left the ranch in 2000 we decided to meet again when one of us is going to get married.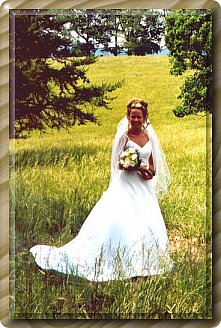 We were desperate because we didn't know when we would see each other again so we made that promise. Well, who in this whole world would have thought, that this would happen so fast?
And who would have thought that she would become a member of the Comisfords? When we set up our "wedding agreement" neither she nor I did think about that possibility. We should have known better :-) ...
Jessi and Brandon set up their wedding date for June 1st, 2002. After looking for palces where the wedding could take place, they found a beautiful spot called "The Shiflet Farm", not far away from where Jessi and Brandon are living in Virginia.
I certainly did not want to miss that event or the "wedding of the year" as Zack called it. So I planned another trip to the States. To Ohio first and then to Virginia. Unfortunately I had already known that this would be my last trip to the U.S. this year but I was still looking forward to this wedding, since I had never been to an American western style wedding before.
The scenery was beautiful and the weather just perfect. (I'm sure the guys, all dressed in black have a different opinion on that :-)). True, it was really hot that day. The wedding would take place outdoors, on a hill with a beautiful background.
We arrived prior to the bride. Pictures were taken and everything was set up. More pictures were taken and all the guests were slowly coming in, taking their seats.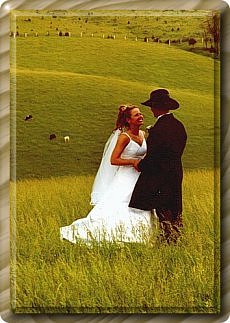 Brandon was already waiting at the end of the aisle. I'm sure he was nervous. The bridesmaids came over a hill in a horse-drawn carriage, whereas Jessi came in on horseback (and barefooted). She was greeted by her father, who walked her down the aisle to an archway of spring flowers.
Brandon sang his new bride a love song during the ceremony, written by he and a friend. The wedding was followed by a reception with plenty of celebration, dancing, kodak moments, a lot fun, fellowship and making more memories.
You might want to ask Shane and Jeff about their special memories they made that day (or should I say night?). Well, anyway, we all had a lot of fun. I met a lot new people and was happy to see Sue and Bill again (and of course Jessi and Brandon, who I saw every single time when I had been back in Ohio for Christmas and Easter).

There's nothing left to say but "Good luck and all the best Jessi & Brandon". I am proud of you guys :-).
Fore more pictures, check out the picture gallery